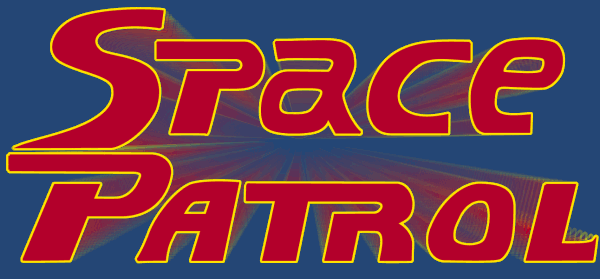 for Intellivision®!
Full Edition ROM Now Available!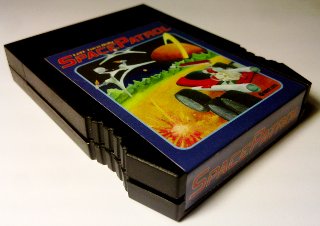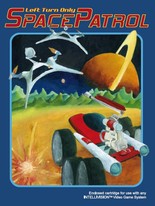 26-Dec-2016: Happy holidays, everyone! I've decided, at long last, to simply release the full ROM for Space Patrol to the world.
I had many plans to bring Space Patrol back into print in cartridge form. It seems I'm just never getting around to it. So what the heck: It's time for everyone to have some fun blowing up aliens and protecting the Solar System!

Play Space Patrol on an LTO Flash!


Downloadable Full Edition
Space Patrol: Full Edition is now available free to all!
This ROM is nearly 100% identical to the original 2007 cartridge release. The only change is a very minor bugfix that will fix some incorrect sound effects on later systems. (Noticed on an INTV System III.)
This ROM should play in emulators, as well as real systems via an Intellicart, CC3, LTO Flash!, or any similar device.
The full edition ROM is being offered under the Creative Commons CC BY-NC-ND 4.0 license. This means you can share it with attribution for non-commercial purposes. No derivative works allowed. I ask that you share only in BIN+CFG format along with its LICENSE.txt, so the license information remains with the work, and everyone knows their rights.
If you would like to distribute Space Patrol under a difference license, please contact me.
Downloadable Teaser Edition
Space Patrol: Teaser Edition offers a glimpse at Joe Zbiciak's second complete Intellivision® game, Space Patrol.
This edition is fully playable, and offers a generous sampling of the complete game. The teaser edition, however, contains only a portion (Checkpoints A through J) of each of the 8 wonderful courses. This release still offers a wide range of skill levels, and Arnauld Chevallier's excellent score.
Downloads

Space Patrol: Full Edition ROM image files.

Space Patrol: Teaser Edition ROM image files.

Space Patrol Box Cover Image for use with the Ultimate Intellivision Flashback

Space Patrol: Teaser Edition source code

Online browsable source.
For best results, play Space Patrol with the ECS enabled. This will enable additional sound effects and a richer musical score. Space Patrol does not require the ECS to play correctly.
Note: If you are playing in an emulator such as jzIntv and do not have the "ecs.bin" file from Intellivision Lives!, you can use this one to play Space Patrol and experience the enhanced sound effects and music. This file does not contain any copyrighted content. It will not allow the classic Mattel ECS games to function. Or, you could just buy a copy of Intellivision Lives!
---
Copyright © 2007, 2012 ⋅ Joseph Zbiciak ⋅ joe.zbiciak at leftturnonly dot info
Left Turn Only: There is only one way.

---
Intellivision® is a trademark of Intellivision Productions. Left Turn Only, LLC is not affiliated with Intellivision Productions.